As you can see from this photo, a SHANGHAI haze usually lingers here...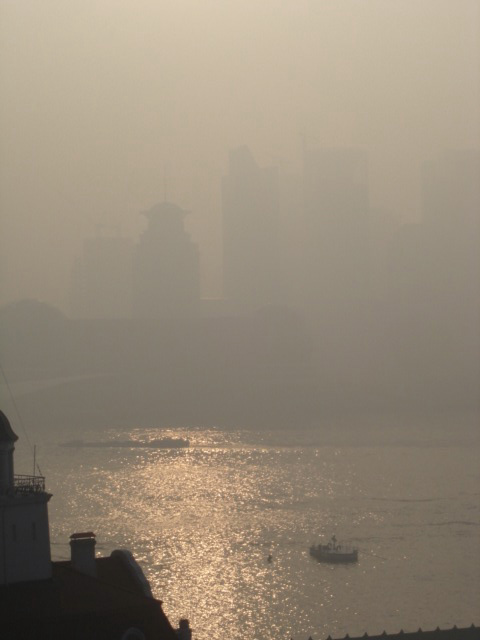 Flying over Hawaii once a few years ago, I saw this smog: it stretched halfway across the Pacific Ocean, spreading thousands of miles with the wind. Picture a thick brown omenous color half a mile up into the horizon, in disgusting volume, from factories and trucks all over a quickly industrializing Asia. ...Al Gore is really going to get pissed now...
Well finally after going a half day at full steam we emerged from Shanghai pollution, also escaping the brown waterways and returning to the welcome sight of the pure uninhibited blue of the deep sea. And so, I saw my shadow this morning and it felt like an occasion. The first time in a week I guess, that I had seen the sun shine.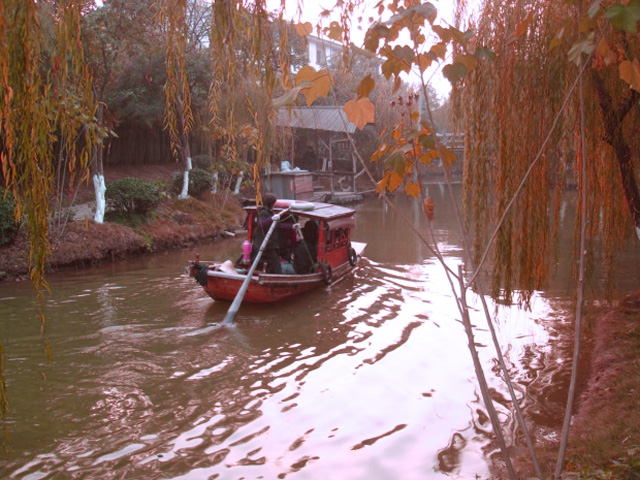 I am on an environmental mission now, to research the urban areas and see what kind of wildlife is managing to survive in these places. And I am sorry to report I cannot say much about the Shanghai metropolis in this sense -- we only saw a few species there (white city pigeons as well as tiny haggard looking songbirds who appeared briefly and then quickly disappear). There are few trees in Shanghai and very little riverfront habitat to be found for wildlife.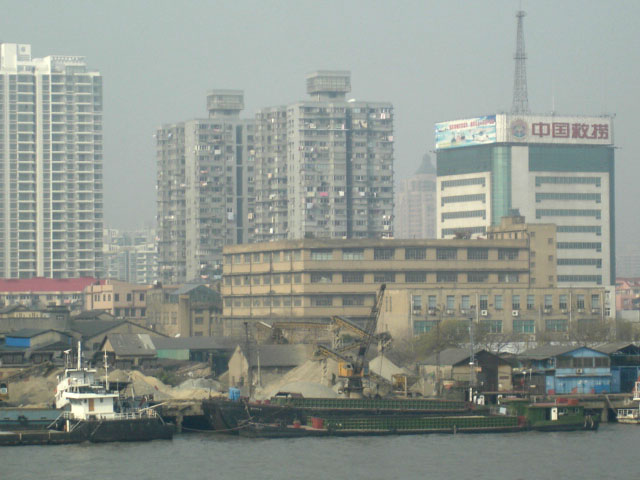 How can wildlife have a chance here when scenes like this above constitute the typical riverfront land usage... Continuous traffic is moving up and down the river, usually 4 or 5 barges or boats in any navigable spot at any given time. They haul huge amounts of raw materials, sand (pictured above), coal, timber, etc. Feeding the hungry behemoth...
Now it was time to head away from Shanghai for the 40-hour cruise to Kobe, Japan. From the cabin below I wrote all of my travel accounts -- it was a spacious private cabin, with a great view out the port side at mid-ships.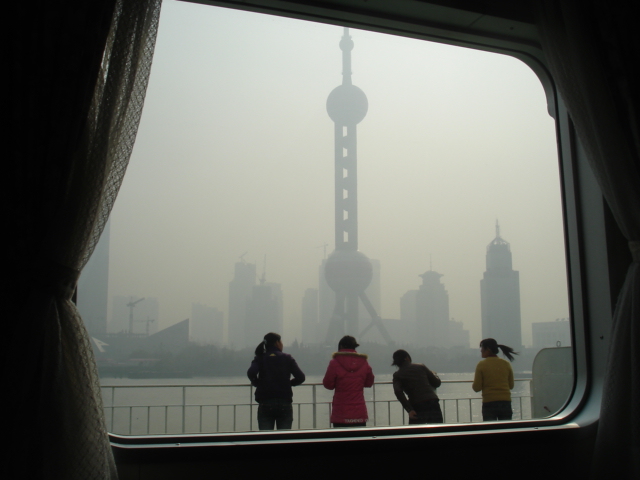 They provided breakfast (traditional Japanese) and also had vending machines with beer, my kind of fast food.
Our first night was rough. I thought of my grandfather braving ship life for months at a time while in the navy during World War II... I don't have much room to complain but I can say it was interesting from about 0100 to 0300; the ship hit some swells and we were riding big ones, I could feel their slopes. I began counting seconds at the top of each wave, while we descended and finally slid onto the bottom of the swell and started to move slowly up again, lurching and creaking. Each wave ended up taking about about six seconds to traverse, these were big swells.

It was quite uncomfortable in the bunk and I thought about going out on deck to look at the waves - and hurl while I was at it - but I'd just fly away with the wind so instead I just bucked up and swallowed me bile...