The Canal Disappearance wins a spot in my top three craziest adventures...
it is true that I disappeared. Not necessarily kidnapped, not lost, not really. But I fully disappeared from the comforting vibe of Western civilization and came as close as I was going to be to getting shanghai'd.
My disappearance began as I set out on a train for this ancient canal town west of Shanghai. Suzhou was established thousands of years ago as an ancient center for the silk trade. Marco Polo deemed it the Venice of the East.
It's an hour or two from Shanghai and getting there is an adventure. You start at the Shanghai central train station, you could call it the Union Station of the East. Twenty ticket windows and all the signage in the station is in Chinese characters only. I ventured into the shortest line I saw.
In Shanghai, maybe 1 out of 10 people you meet speaks English... and that's minimal English. So you're on your own.
As you travel outside the city's sequestered regions catering to business travellers, you quickly begin to see the layers shed off -- those who speak English filter to more like 1 out of 100. Amongst the few English speakers I met, generally they had learned it in middle school -- three years was common -- and they either did or didn't retain it. We all can remember studying Spanish or French in school and you either pursue it, practice it and improve it, or you don't. Here it was no different and besides, you get the impression many people around here never attended school to begin with.
If you're in for immersion in a nice juicy foreign land, here is a place for you.
I couldn't forget that I was on an ecologically based journey and so the train ride out of Shanghai was instructive. I watched a seemingly endless industrial corridor stretch with us far, far from the city and when we finally arrived at dusty Suzhou train station, the only difference I saw was less pavement and lack of skyscrapers. We emerged from the station to throngs of street folks, mopeds, bikes and old unmarked taxis vying for territory.
When Li Hua's sister ran up to me, I guessed she was a huckster. But her smile and the business-oriented look in her eyes suggested that maybe she stood apart from the crowd.
She knew only a handful of words in English so as we tried conversing, she motioned for me to come along and started walking briskly away from the dusty train station. She half jogged to a backwater, stopping gutter-side by a small white, well-used 80s era Euro van, with five or six beat-up motorcycles and about as many haggard onlookers gawking at us. It should be said that a sense of being stared at was constant for me in China.
Li Hua ran out from behind the van with an outstretched hand, warmly shaking hands with me and flashing a smile. "Where you want? I take you canal, ancient Chinese gardens! Very beautiful!"
His clothes were dusty and worn, yet nicer than what one might expect. I could see he spent a lot of time outdoors yet clearly understood business -- and spoke English to boot. He began pulling business cards from his pocket, a mix of Western locales: New York, Oregon and the UK flashed before me and he clearly was taking pride in his wide array of customers. OK, sold.
We negotiated a price for the afternoon and I was soon climbing into the taxi minivan with Li. His sister nodded and disappeared to fish the crowd for another victim!
Li sat close to me in the back seat of the van as the driver accelerated quickly down the dusty road. Something I'll never get used to is Chinese proximity between people. I've known this about Chinese people from my many years in San Francisco but still, the American Westerner runs deep in me -- a two feet radius is good, two and a half is better.
We plowed deeper through the dusty busy roads into the center of town. It had the appearance of a true backwater town maybe from the era of the 1930s or similar... Where were we going? Was Li just running a ring where "beautiful Chinese gardens" were actually facades for operations swallowing Westerners up, never to return?
In talking, we discovered we were a year apart in age and he high fived me. Here was a member of my generation from a foreign land... a Communist upbringing now turning its focus to new horizons with great profits -- for some. Maybe our drastically different upbringings were merging now into the warm fuzziness of globalization. In any case, I considered him to be smart, funny and insightful and that was reassuring.
Yet even though I seemed to have an ally in Li, everything around us was extremely seedy. As we made our way to the canal district to hire a boat, the district seemed to get even worse.
We got out of the taxi, I handed the driver 50 RMB (about 6 bucks) and we began walking down to the ancient canals. As we arrived at the boats, a middle-age Chinese guy began yelling at Li. Li yelled back and they kept going... I soon discovered that this is how people negotiate and open the process of doing business with each other. There was a lot of this back in Shanghai too. They truly bark at each other!
Price set now (the most expensive item of the day $20 USD for a boat ride down the canal), we got into the boat and began our journey down the ancient canals of Suzhou...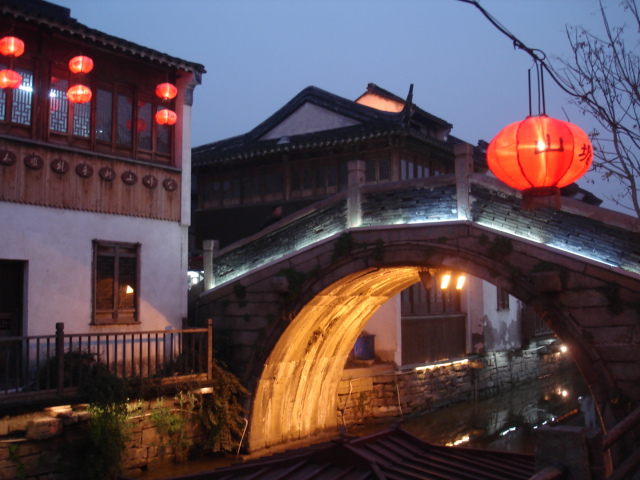 The hanging lanterns came on just as we approached the ancient downtown under an arching foot bridge.
We hopped off and walked across the footbridge to a truly mideval city. This part of China flourished in 2000 B.C. when canals were constructed to link southern China with Beijing in the north. Thousands of miles of canals were started right here.
Ancient storefronts were carved into the walls of the city, now supporting everything from barber shops to cozy tea shops and traditional Chinese restaurants. We ducked into a beautiful restaurant and had an early dinner.
As the sky grew black, we left the comfort of ancient Suzhen and prepared to return to the "modern" part of town and the train station, about 20 minutes away by cab. Li hailed a motorized rickshaw, negotiated a price (about $3 USD) and we hopped in back. It was a ride to be remembered...
The dude was insane, turning off the main road to a back route and speeding down ricketty sidewalks, narrowly missing bodies walking and riding by, then across war-torn dirt road intersections with a chaos of crossing vehicles. Finally, we carved through what appeared to be a construction zone for a huge new freeway being built (apparently with human elbow grease and very little mechanized labor). The rickshaw slammed across muddy trenches and unfilled gaps in the road as work trucks occasionally passed us horns blaring.
All Li and I could do was laugh nervously. I could tell even he thought this ride was crazy by local standards.
Finally, we lurched to a stop at the station. I haven't been so happy to arrive somewhere in a long time... The adventure didn't end as we were soon walking across the full length of the promenade by darkness, a littered mess of rickshaws, bicycles, disembarking buses, beggars, hucksters and freaks -- and no street lights.
That's what I found more than anything else about this part of the world: the incessantly chaotic moving about of humans, lacking the order of sidewalks, lights and roadways. It is like plopping thousands of people into a city block that is being demolished, then fencing them in and instructing everyone to hurry in every direction.
Li said he would help me buy a ticket back to Shanghai (the good train, new train, which was the "bullet train" of China). There wasn't a bona fide ticket office and I started to feel very uneasy as we walked through the darkness to a hastily lit shed off to the side, almost in a trench. As I had for the past few hours, I put my trust in Li as he disappeared around the corner of the makeshift hut.
Other people were hurrying in and out of this hut coming from the darkness outside and emerging quickly from the dim yellow light of the hut. It was here that the tragic end of my trip flashed before my eyes. It really did. It was one of those moments where about anything could happen and it wouldn't surprise you. It could have been a tent full of dead people with five guys waiting with guns and knives. Maybe a spread of illegally poached wildlife spread out on it, bloody and hideous. Maybe I've just seen too many movies...
It was just the side stage for the official ticket window. The way I gathered it, a brother of the bureaucrat who ran the Sizhou train station got handed a few hundred tickets for every train that day and then sold them out of his tent -- which is really what this was.
A haggardly cat ate vittles in the corner of the tent as two henchman haggled with people over prices -- Li asked me to hand him 31 RMB -- about four bucks -- and handed me back a ticket for the next express train back to Shanghai.
-Bill Buck